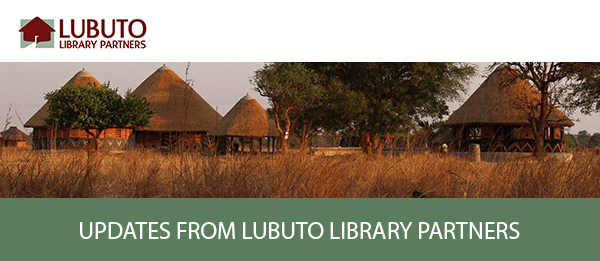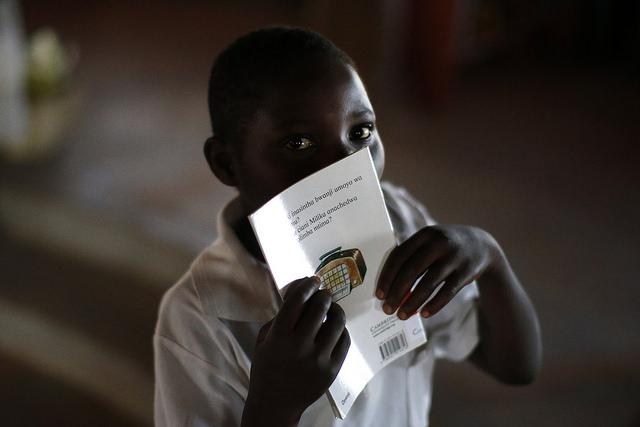 October 2016
Supporting African publishers
"Thank you for getting in touch with us...After reading a bit about Lubuto, [we] literally did a happy dance. The work you do is absolutely incredible..."
– Jacana Media, South Africa

Libraries thrive when publishers thrive. Whether they produce paper books or e-books, a robust publishing industry is necessary for the educational and intellectual life of a society. The progress of African publishers and booksellers has been impeded in recent years by well–meaning external book donation programs from wealthy areas. Lubuto is committed to strengthening Zambian and regional publishers and our efforts to date have been greeted with great enthusiasm by private and government publishers alike.

In a recent workshop to develop training materials for school libraries in Zambia, among the international standards contributed by Elizabeth Giles was the importance of librarians evaluating donated materials by the same criteria as materials being purchased for library collections. A good and effective library always pays close attention to developing a balanced and appropriate collection; it can't be "given" to them from an external source.

Beyond the library perspective, the development of local publishing inspires local people to become authors and illustrators and greatly increases access to affordable books among children and youth.

Here are a few ways Lubuto has recently supported local and regional publishers:

We will soon construct a kiosk on the grounds of the Ngwerere Lubuto Library as a sales outlet for the Zambia Educational Publishing House (ZEPH). ZEPH's publishing capabilities have been strengthened in recent years, and they are re-publishing Zambian literary treasures. However, as a government publisher they cannot sell their books in commercial bookstores. To support ZEPH's sales of their very reasonably-priced books, we will display their publications in the library next to the sales kiosk, making a section of that library a ZEPH showroom. We will display the textbooks they publish that comprise Zambia's school curriculum as well, to encourage people who are interested in helping get textbooks into schools to purchase the Zambian curriculum materials rather than donate surplus textbooks from other countries that do not match the local curriculum. We agreed on this plan with ZEPH some time ago and have now received funding from our great friend Harriet McGuire to support the kiosk construction, which will commence soon.

Zambian publishers and booksellers have been so enthusiastic and responsive to our ongoing identification and purchase of their books that some literally show up at our office now with armloads of newly published titles for Lubuto libraries. They call us each time they publish a new title that they think may be of interest for the libraries. This might not seem unusual to most librarians, but sadly this normal relationship between publishers and libraries is not always the case, at least in Anglophone African countries. It not only makes library collections more responsive, relevant and effective (making libraries more successful and impactful), but a strengthened local publishing industry supports literary expression and consumption. This is also an important aim of the Zambian Board on Books for Young People, an organization Lubuto was instrumental in founding about a decade ago, and why we are an affiliate of the Book Publishers Association of Zambia.

We have also developed strong partnerships with some excellent South African publishers whose books are very popular in our libraries. And we support the important work of other South African organizations that share our goal of providing great books to African children and youth—particularly Biblionef South Africa and FunDza.

Our new South African publisher friends, Jacana Media, so enthusiastic about our outreach to them, wrote: "we are often the ones knocking on doors trying to make people understand the need and importance of libraries in communities. It is such a relief to be in touch with an organization who is at the forefront of the movement. I can't tell you how excited I am to have learned about your organisation and hope we can work together." Of course we can, and will!
Volunteer of the Month
Our Volunteer of the Month is the wonderful April Wright, who we first met in 2011 as a volunteer for our LubutoLiteracy OLPC project. We are humbled by her amazing dedication in squeezing Lubuto into her very busy life and we are delighted by her conviction that "Lubuto is doing [what] libraries are supposed to do: not just serve. Solve!"
Copyright © 2016 Lubuto Library Partners, Inc.
The Lubuto Library Project is exempt from U.S. Federal income tax as a public charity under Section 501(C) (3) of the Internal Revenue Code.
---
---
Lubuto Library Partners
5614 Connecticut Ave. NW, #368
Washington, DC 20015-2604
US


Read the VerticalResponse marketing policy.